These materials are composed of mineral fibre-based boards.
They have very good physical and mechanical properties and are excellent insulators.
This is why they are used in various fields where a certain degree of insulation is required.
We mainly process the following boards:
It is a splice composed of cellulose fibres impregnated with beige-coloured elastic gelatine. It has a good cost/performance ratio. It is particularly used in the petrochemical industry for its good resistance to oils, petrol, diesel, gas, grease, etc.
It is a splice made of mineral fibre-based cardboard. This material can withstand very high temperatures. In its classical composition it reaches up to 750 C°, but with the addition of additives such as calcium, aluminium or ceramic fibres it can withstand temperatures of up to 1200 C°. It is an excellent thermal insulator, which is why it is often used in heating and metallurgy.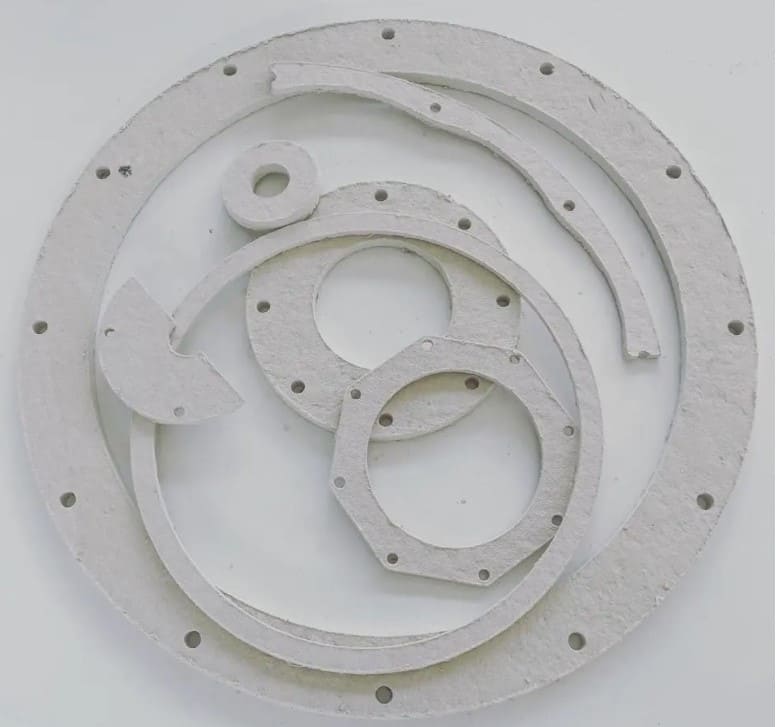 It is an asbestos-free board made from various types of cellulose fibres bonded with adhesives. It is very workable and is resistant to oils, petrol, diesel, water, antifreeze, etc. It has excellent physical-mechanical characteristics, such as strength and hardness. It is often used for wide-ranging mechanical-electrical applications.

Specialising in industrial seals
Pre- and after-sales advice and assistance
Customer request
We carefully evaluate each of our customers' requests in order to offer customised, quality solutions.
Technical consultancy
Proven experience in various manufacturing sectors: mechanical engineering, automotive, hydraulics, petroleum and pharmaceuticals. We offer tailor-made solutions, guaranteeing high quality and customer satisfaction.
Production
Our production includes both standard and customised production, even with special compounds. we produce customised seals based on customer drawings within a short time frame.
Logistics and Warehouse
Timeliness of delivery thanks to a large warehouse that enables rapid dispatch and delivery.
Customisation
we offer customised labels to give your products a unique touch. We are here to provide you with a customised service that perfectly suits your business needs.
Cork is a natural product of plant origin.
It has been used for centuries as an excellent insulator, but also possesses excellent mechanical and physical qualities and is also used as protection and for sealing.
We mainly work :
This material consists of more or less fine cork grains bound with polyurethane resin. It has good flexibility and formability. It is resistant to air, oils, hydrocarbons, grease, antifreeze and water.
This material is composed of more or less fine cork grain and synthetic rubber. Depending on the rubber used (NBR, SBR, EPDM, CR...) and the finish of the cork grain, materials with different characteristics are obtained.
MB Gaskets mainly processes the following compounds
RUBBERIZED CORK RLD (MEDIUM GRAINS + NBR)
RUBBERIZED CORK RBC (FINE GRAIN + NBR)
CORK-RUBBER (SBR)
CORK-RUBBER 1120 (CR+NBR)
RUBBER CORK TD 3510 (EPDM)