MB Guarnizioni processes, mainly by cutting and festooning, foam materials. These have the particularity of being very light, spongy and soft and can be used for a variety of purposes in different sectors, the main ones being:
Polyurethane foam
This foam is more commonly called foam rubber or simply sponge. It has an excellent shock-absorbing capacity.
PTFE Expanded
It consists of a bi-directional structure of PTFE fibres. It withstands high and low temperatures excellently.
Polyethylene foam
Arriva ad offrire prestazioni anche 10 volte superiori a gomme come la gomma NBR. Un'eccezionale resistenza alle alte temperature.
Silicone foam
This foam rubber is a very good thermal and acoustic insulator.
Expanded Rubber
The most common foam rubbers are based on EPDM, Chloroprene, EPDM+CR, EPDM+SBR, NR+SBR, etc.
Specialising in industrial seals
Pre- and after-sales advice and assistance
Customer request
We carefully evaluate each of our customers' requests in order to offer customised, quality solutions.
Technical consultancy
Proven experience in various manufacturing sectors: mechanical engineering, automotive, hydraulics, petroleum and pharmaceuticals. We offer tailor-made solutions, guaranteeing high quality and customer satisfaction.
Production
Our production includes both standard and customised production, even with special compounds. we produce customised seals based on customer drawings within a short time frame.
Logistics and Warehouse
Timeliness of delivery thanks to a large warehouse that enables rapid dispatch and delivery.
Customisation
we offer customised labels to give your products a unique touch. We are here to provide you with a customised service that perfectly suits your business needs.
This foam is more commonly called foam rubber or simply sponge.
It has a very good shock-absorbing capacity. It is a good thermal insulator, is breathable and resists compression very well. It is easily workable.
It is characterised by high compressibility and adhesion, with excellent springback. It is used to make anti-vibration and air, dust and water seals.
This polymer possesses high chemical resistance and high chemical stability against thermal excitation, in fact, its characteristics remain suitable up to temperatures of 260°C. In addition, it has excellent anti-adhesive properties, a low abrasion coefficient, high dimensional stability and extreme resistance to ageing with the ability to retain elasticity over time.
This material cannot be used at very high temperatures, but resists very well at low temperatures. It has excellent ozone, air and UV resistance. It is completely non-toxic and very light. Due to its lightness, it is used in different ways.
Questa gomma espansa è un buonissimo isolante termico e acustico. Viene usato quando è richiesta compatibilità con alte temperature e con determinati agenti chimici aggressivi. Ha un ottimo comportamento con ozono e aria. È debole in presenza di olii.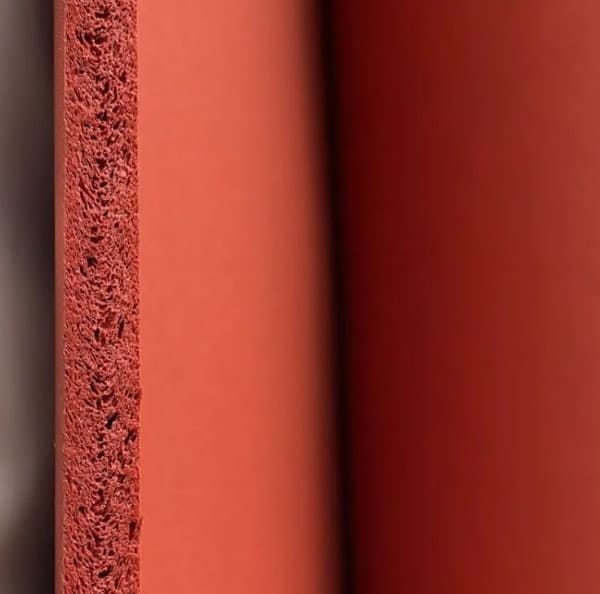 The most common foam rubbers are based on EPDM, Chloroprene, EPDM+CR, EPDM+SBR, NR+SBR, etc.. They resist weather, steam and UV radiation well. Suitable for outdoor use. They have a good elastic memory. They are often bonded for various uses.