An O-ring is a ring made of elastomer, or commonly referred to as rubber. The term O-ring literally identifies its circular section: 'O' for its shape and ring for being a ring. In Italian they are also called 'O-rings'.
They are used as a mechanical seal or gasket and are designed to be inserted into special housings/seats. Orings are compressed during assembly of two or more parts, thus creating a seal.
The seat that houses the O-ring is a fundamental part of the sealing system, creating great influence on the efficiency of the system itself. The connection between the seat and the O-Ring itself can be static, when the parts do not move with respect to each other, or dynamic, when they do move. The surface finish of the O-Ring seat and all surfaces that come into contact with it is an important factor in the sealing capability and durability of the seal itself.
Dynamically sealed systems must have higher levels of precision and finish than statically sealed systems, as friction between parts accelerates the degradation of the O-ring. Increased lubrication is therefore required in joints with overheating due to friction.
The use of O-rings is also quite common due to their limited cost. They are simple elements and the main use of O-rings is as sealing elements in joints in hydraulic and pneumatic systems, preventing/limiting fluid leakage.
MB GUARNZIONI is able to offer over 5000 sizes in various standard and international metric sizes.
Orings can be produced in a wide range of compounds that are tailored to customer requirements and also to suit a wide range of industrial applications.
The O-Ring, a ring with a circular cross-section, is the sealing element that is best applied and meets the needs of those sectors where a seal is required for the passage of fluids or gases.
Precisely because of the versatility and widespread use of O-Rings, MB Guarnizioni has a very wide range in terms of sizes and compounds.
The standard orings that can be supplied count in fact more than 5000 sizes, from 0.80 to 14 mm chord.
MB Gaskets' production can guarantee special moulds and non-standard sizes through a study of special orings at the customer's request. It also has encapsulated orings:
FEP (Fluoroethylenepropylene) or PFA (Perfluoroalkoxy) coated
PTFE-coated
Rope or is available in a variety of thicknesses and materials.
MB Seals can guarantee supply from a few metres up to large quantities. Available materials include:
NBR
VITON
TRANSPARENT SILICONE
RED SILICONE
BLUE SILICONE
Customised o-ring kits and cassettes for online sale
MB Gaskets offers a professional service customised to the needs of the customer who can order customised kits and cassettes containing:
Or O rings
Copper washers
Aluminium washers
Packaged in boxes of 12, 16 or 18 or also in blister packs that are useful and perfect for counter sales or displays.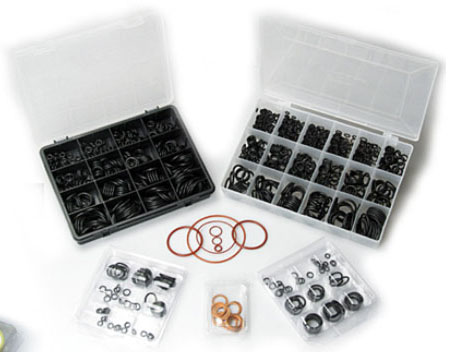 Specialising in industrial seals
Pre- and after-sales advice and assistance
Customer request
We carefully evaluate each of our customers' requests in order to offer customised, quality solutions.
Technical consultancy
Proven experience in various manufacturing sectors: mechanical engineering, automotive, hydraulics, petroleum and pharmaceuticals. We offer tailor-made solutions, guaranteeing high quality and customer satisfaction.
Production
Our production includes both standard and customised production, even with special compounds. we produce customised seals based on customer drawings within a short time frame.
Logistics and Warehouse
Timeliness of delivery thanks to a large warehouse that enables rapid dispatch and delivery.
Customisation
we offer customised labels to give your products a unique touch. We are here to provide you with a customised service that perfectly suits your business needs.