The PTFE gaskets that MB Gaskets produces are divided into three sub-categories, the main ones being:
PTFE Virgin
It is a technopolymer with excellent
insulating dielectric characteristics.
PTFE Certified
It is mainly used in construction, motoring, waterproofing and household appliances.
PTFE Expanded
It performs up to 10 times better than rubbers such as NBR rubber. Exceptional resistance to high temperatures.
Specializzati in guarnizioni industriali
Consulenza ed assistenza pre e post-vendita
Richiesta del cliente
Valutiamo attentamente ogni richiesta dei nostri clienti per offrire soluzioni personalizzate e di qualità.
Consulenza tecnica
Esperienza comprovata nei diversi settori produttivi: industria meccanica, automotive, Oleodinamica, Idraulica, Settore petrolifero e farmaceutico. Offriamo soluzioni su misura, garantendo alta qualità e soddisfazione del cliente.
Produzione
La nostra produzione comprende sia la produzione standard che quella su misura, anche con mescole particolari. produciamo guarnizioni su misura basate su disegno del cliente in tempi rapidi.
Logistica e Magazzino
Tempestività nelle consegne grazie ad un ampio magazzino che consente la spedizione e consegna in tempi rapidi.
Personalizzazione
offriamo etichette personalizzate per dare ai tuoi prodotti un tocco unico. Siamo qui per fornirti un servizio personalizzato che si adatta perfettamente alle tue esigenze commerciali.
It is a technopolymer with excellent dielectric insulating properties. It withstands high temperatures with continuous operation from -180 °C to + 250 °C.
It has considerable resistance to aggressive chemicals and very high smoothness. Its mechanical resistance is very low and consequently so is its resistance to wear. It has food compatibility and is frequently used in the petrochemical, chemical and pharmaceutical industries in general.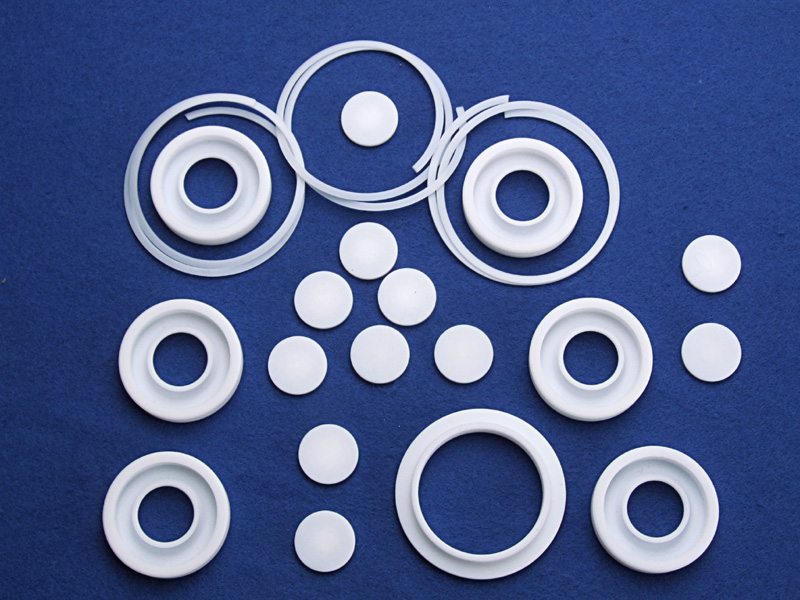 It is produced by adding additive powders such as glass fibres, carbon, graphite, molybdenum disulphide, bronze and ceramic powders to PTFE. These additional components vary the characteristics of PTFE and can, depending on the different concentrations, increase its hardness, compressive strength, wear resistance, reduce its thermal expansion coefficient and vary its volume resistivity and surface strength.
MB Gaskets processes different types of filled PTFE, the main ones are:
VIRGIN PTFE + 15% GLASS FIBRE
VIRGIN PTFE + 25% GLASS FIBRE
VIRGIN PTFE + 15% GRAPHITE
VIRGIN PTFE + 25% SOFT CARBON
VIRGIN PTFE + 25% CARBOGRAPHITE
VIRGIN PTFE + 60% BRONZE + 2% CARBON
This polymer possesses high chemical resistance and high chemical stability against thermal excitation, in fact, its characteristics remain suitable up to temperatures of 260°C. In addition, it has excellent anti-adhesive properties, a low abrasion coefficient, high dimensional stability and extreme resistance to ageing with the ability to retain elasticity over time.